The Key To A Flat Stomach Is A Program That Stacks Upon Itself, Targeting: Exercise Tolerance, Fat Loss, Then Lean Muscle – Watch Your Body Lose Fat Exponentially Faster
No longer - will your programs fail you, even when they appear to work at first. With Elite Online Monthly Coaching workout builds upon itself while you learn to be independent with your fitness goals - .
To My Frustrated Friend Who's Trying To Lose Weight,

I have a 'real' solution for you, and it's not as sexy as the others...

Let me start off by humbly reminding you I'm a Doctor of Physical Therapy and Kinesiologist. I currently work with over 110,000 online clients – I've been trained by some of the world's best and every moment I've invested in my education has been for you.

I grew up in a medical family, and yet it seemed as though everyone in my family was trying to lose weight but always gaining it back. We tried great diets, awesome nutrition programs, and 'regular' exercise. Consistently, we gained the weight back and our health got worse...

Today, I'm proud to say I was able to personally lose 34 lbs. and 17% body fat... and progressively get in better shape for the last 8 years – this is a method I now teach to the whole world.

I'm glad you're part of the Dr. Kareem Family – we've been together awhile now, and you know I'm going to solve weight loss and fitness for you. Now is the moment to take action.

You see, the real is...
Rebound Weight Gain:
Most Programs (Accidentally) Fail You Over Time
When Mark first approached me, he was really upset.

A former athlete, smart guy, relatively young (44), and completely out of shape. He always kept himself in great shape, and sometime during the start of his career and family he managed to lose sight of exercising as regularly... meanwhile, his body stopped responding the same way it used to when he was younger. His meal times were off, but this was a result of his chaotic schedule, so meal timing wasn't going to be easy to adjust.

His kids were growing up, and he was the kind of dad that wanted to coach their teams, inspire young athletes to try harder, and put family first in all circumstances, no matter how tiring. Mark is a great guy, and I'm proud to call him my friend.

The thing is... Mark was really frustrated because he knew a lot about working out, and it wasn't having the same effect... or at least he thought he knew a lot. You see, Mark was basing his entire 'exercise knowledge' off of high school football workouts in the gym, and sadly, these workouts totally sucked.

Sure, you could feel an awesome burn, get really sore, build a huge appetite, and even get a little better at sport... but this wasn't "working out" – it was doing an exercise, then another one, and then another one. Working out the right way is much more strategic.

Another fatal mistake that Mark was making with his exercise program was not knowing 'where' to feel an exercise. This is HUGE. You have to feel a muscle, specifically the muscle you should be feeling, and then mentally envision it contracting more. This mind-muscle connection increases your strength by up to 30% on every rep of every exercise you do. You can 'imagine' the impact he was missing, even if he was doing the right exercises... which he was not.

Third, Mark didn't really 'get' rest – he figured the harder he worked, the better the results he'd see. What Mark wasn't taking into account was that rest serves to do more than just help your muscles recover, although this is a vitally important detail. You see, rest also helps you balance your hormonal response to exercise.

Finally, Mark's workouts weren't progressive in nature, because they were the same (boring) exercises stressing his muscles the same way, time after time.

We changed Mark's routine in a 'strategic' way, preventing his body from adapting to his workouts. Mark got lean ridiculously fast, and he stayed that way.

He was ready to create change. Mark needed to know how to properly choose and stack exercises together, while building a program that constantly shocked his body. This may sound complicated, but it's amazingly simple...

With less effort and the right method...
You Don't Ever Have To Gain Weight Again:
Train Smarter, Not Harder
Eventually, your body will adapt to a workout routine as well as its new metabolism, and your workouts will become less effective. That's why 'periodization' was born for athletes – to prevent plateau and enhance performance.

Strangely, I had never seen periodization applied to 'fat loss' or 'fitness' before. Having trained tons of athletes, I figured out a way to leverage Olympic and Pro athlete training methods for fat loss – here's how it breaks down:


| | | |
| --- | --- | --- |
| Phase: | For Athlete: | For Fat Loss/Fitness: |
| Phase I | Pre-competition phase | Fat loss 'priming' phase |
| Phase II | Competition phase | Advanced fat loss |
| Phase II | Post-competition/Recovery phase | Recruit muscle (increase metabolism) |
This simple discovery changed the game in fat loss. Instantly, we could leverage years of expertise in designing the 'perfect' program for an athlete, apply it to fat loss, and get a lean body faster. Before periodized fat loss, it just wasn't possible to lose fat as fast... or keep it off as easily. Each phase of a periodization program fits with the one before and after, and builds upon itself over time.

To take this one step further, we stack together 3 entire periodization programs (modules), each with three phases, and multiply your results:
| | |
| --- | --- |
| Module | Goal: |
| 1 | Fat Loss |
| 2 | Muscle Building |
| 3 | Flat Stomach |
This way, while you lose fat you are preparing to build muscle, and while you build muscle, you are increasing your metabolism to the point that a flat stomach is possible. The entire program links together and ends with you having a new body.

I call it the...
Flat Stomach Sequence:
The Scientific Method For A Flat Stomach
And I've designed an entire program that follows this method – except it makes working out simple and fat loss easily achievable. Before I show you everything that comes with Elite Online Monthly Coaching, this is why you'll have an easier time following this program than any other you've ever bought or tried before:
Every workout is delivered directly to your inbox, so it's easy-to-follow.
The member's area is designed to automatically keep track of your workouts.
Proper form is easy – every exercise has a video filmed by me, a Doctor of PT.
...and most importantly, I teach you how to build your own workouts along the way.
Every month, you'll be given access to a video presentation that teaches you how to build the types of workouts you're experiencing. This way, you understand the why as well as the how. You'll become empowered, and you'll never wonder whether or not a workout is effective again – imagine, you'll be able to evaluate every exercise you see and instantly decide if its a valuable addition to your workout regimen.
Effectively, you'll know more than 99% of personal trainers out there, but only the information that produces results, not the boring science you don't care about.
Here's exactly what comes with LHPH: Elite Online Monthly Coaching: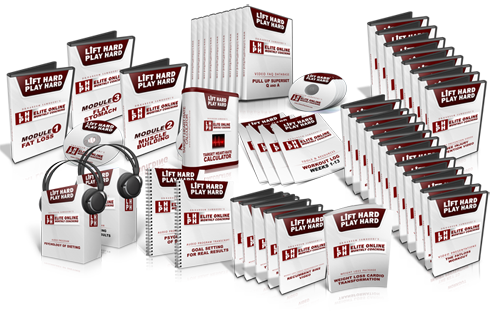 Module 1: Fat Loss
In each module there are 4 presentations - , ordered to correspond with your exercise program for maximum benefit. Each of these presentations is jam-packed with tons of useful info that will quickly educate you to become a true health guru.

Module 1 begins by building exercise tolerance so you can get more results from every workout. To lay down the foundation, I've included audio programs and transcripts on goal setting and dieting. It's you start here. I'll make sure you develop the mindset and habits you need to take your health to the next level. We'll then introduce routines that will literally 'shock' your body into losing fat at record speeds. Finally, there's a recovery period and preparation to begin the Muscle Building module.
Module 2: Muscle Building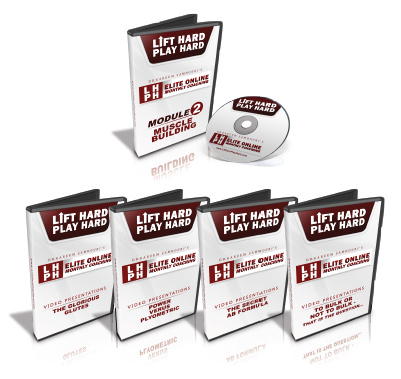 Module 2 begins by pre-muscle building through muscle-balancing routines, that increase overall strength. Along the way, you'll be learning how to build amazing glutes, powerful strength that helps you move quickly, the strategy that shortcuts abs, and how to grow to any size you want. You'll simultaneously build lean, sexy muscle (without the fat) by challenging all of your muscles to work , at their greatest capacity. We'll end with a recovery phase and preparation for the Flat Stomach Module.
Module 3: Flat Stomach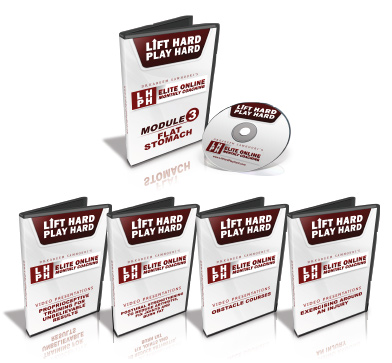 The road to a flat stomach begins by increasing your athleticism – develop more coordination. We then hone-in on the specific muscles that'll get your abs to really 'pop' out. This program ends with a recovery phase and a surprise bonus, as I let you in on a little-known secret that I discovered after creating LHPH.
...and this is just the 'main package,' so to speak. I provide you with everything else you may ever need, including a Video FAQ Database, where I personally answer questions by video, audio, or written response – whichever is most appropriate to your question. Not to mention there are workout logs, special deals on exercise equipment, and access to exclusive interviews and bonuses. By joining the LHPH community, you're effectively raising your hand and saying "I'd like to be a Dr. Kareem VIP from now on."

Because I care about your results, and I want you to take action , I've decided to offer you this entire program, with all the amazing extras for a special monthly rate! This is your opportunity to get a flat stomach, and it. Invest today and take advantage of the incredible savings.

Don't wait too long- in just a few days, the price will go back up...
$99/month

Click HERE To Save Today!
EXCLUSIVE Elite Online Monthly Coaching FAST-ACTION BONUS: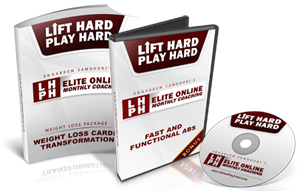 10 Minute Fast-Abs + Weight Loss Cardio

Wishing you had a killer routine that you could use along with LHPH to jump-start getting that flat stomach you've always wanted?
As an Exclusive Bonus for investing in Elite Online Monthly Coaching today, I'm going to give you my top 10-minute abs workout, along with an entire guide & video program on how to use cardio to achieve just about any goal you want, whether you want to:
Get a lean, flat stomach
Lower blood pressure
Lower cholesterol
Quit smoking
Decrease the dose of a medication
Lower stress levels
This is the bible on heart rate training for varying the effect on your exercise program. If you're not a fan of cardio, that's the point – you've never seen 'cardio' that looks like this.
I'm not sure I can fully express to you how excited I am to share this amazing program opportunity with you! Elite Online Monthly Coaching is your ticket to lasting fat loss. Plus, when you get in now, it's



Make the right move - gaining the weight back, and START your fat loss journey today by clicking 'Add to Cart':

Click HERE To Save Today!
Not fully ready to commit?

Looking for some 'insurance' with your purchase, perhaps?

Well, how's this for insurance...


You see, I'm so confident that you will be completely satisfied by Elite Online Monthly Coaching, and more importantly, so incredibly excited about the results you'll be getting that I'm willing to offer you an Iron-clad, no-questions-asked, 60-Day Money Back Guarantee.
Simply put, if you're not happy with Elite Online Monthly Coaching at any point during the next 60 days, just contact us and you get your money back.
It really is that simple.
Truth be told, I'm here to help you get a leaner, healthier body; and I want to make this a total no-brainer, no-risk decision for you because I know how effective this system is and how much it's going to literally change your life. And well, if you don't agree, you pay nothing.
Listen, if you get even half the results of my other clients, you won't be sorry. Go ahead and click add to cart. Sound fair enough?

Click HERE To Save Today!
Think about what you're getting...
An easy-to-follow, weekly updated, plateau-resistant training program that strategically rips your body into shape AND avoids rebound weight gain.
A complete collection of audio and video presentations that'll help you fully understand everything you're doing - and how to do it in the safest, most effective way possible.
A slew of separate mini-courses, tools and other extras to keep you organized, entertained, and continuously seeing record body transformation results.
TWO bonuses: Weight Loss Cardio, AND Fast and Functional Abs
Everything, is included - everything you need to help you get exactly what you want.
... Lose weight and keep it off...
... fit into clothes you've always wanted...
... have a happier, more positive outlook on life...
... get noticed by the opposite sex.
ALL this, at a limited-time grandfathered discount every single month.
Moreover, you get a full 60 days - to get acquainted with all the program's features, to start the fat-blasting workout routines, and to only begin getting complements from those around you - all before you would need to contact our team for a full refund if you're not completely satisfied.
I offer this rock-solid guarantee quite simply because - the program works.
All I ask is this: you give me one shot: Click 'Add to Cart' and believe me - you won't be sorry. Sound fair enough?

Click HERE To Save Today!
I can't wait to have you on board. Your life is about to change for the better and I'm looking forward to being there with you, every step of the way.
Stop following short-term typical routines that don't get you the results you really want, and don't keep you interested and focused on your goals.
Start having fun and start getting amazing results - that just get better and better with time...
Take action and start realizing your goals today.
Your Friend & Coach,

Dr. Kareem Samhouri, CSCS, HFS
P.S. There may never be another chance to get this jam-packed Elite Online Monthly Coaching package at such an incredible price again. This is the program that will get you results and prevent you from putting weight back on. Click here to get started today.
P.P.S. There's truly NO RISK for you... 60 days is more than enough time to see visible results. Try it and if you aren't totally satisfied, we'll give you a full refund - no questions asked. Click here to get started, risk-free
FAQs
Q#1: What is Elite Online Monthly Coaching and why is it so important I follow it beginning to end to finally overcome my weight issues?
Elite Online Monthly Coaching is a doctor-designed, plateau-resistant training program that helps build the best body possible by using a format that builds upon itself, accelerating the pace of your results. This 3 module program will be particularly effective for you if you've had trouble fully realizing your goals with other programs, or after a period of time, experienced rebound weight gain.
The secret is what we call the Flat Stomach Sequence, wherein Dr. Kareem stacks specific fat loss routines on top of muscle building, and then finishes off with lean body exercises for a defined and sexy body.
What's more, the whole package is laid out in an easy to follow manner, and loaded with all of the education you'll ever need to mold you into a true fitness expert (and look like one too!)
Q#2: I'm a beginner, are the routines really difficult?
Elite Online Monthly Coaching is designed for every level. Over time the routines will become more challenging, regardless of where you began, but your body will be primed for what comes next. That said, there are substitutes for nearly every exercise, even if not mentioned in a given workout, simply by contacting our team.
TWO bonuses: Weight Loss Cardio AND Fast and Functional Abs.
Q#3: What exactly is a the 'Flat Stomach Sequence'?
The Flat Stomach Sequence is the key to Elite Online Monthly Coaching - it's Dr. Kareem's career crown-achievement to date.
Achieving plateau-resistance is not simply about changing up exercise routines - it's varying the routines in a specific sequence that gives the amazing results. The Flat Stomach Sequence is the the name created to define a scientifically researched and practiced sequence of routines found in Elite Online Monthly Coaching. It's the secret sauce, if you will ;-)

Click HERE To Save Today!
Q#4: Is this a good use of my money, long term?
Absolutely. Think about it, can you really put a price on a healthy body? Elite Online Monthly Coaching is a sound investment for the improvements you'll experience after incorporating the program into your daily life.
Regardless of age or what kind of shape you're in, the routines will always be an effective tool in keeping you energized and allowing you to reach peak physical condition.
Just listen to what Justin Petersmeyer said, and he's an advanced trainee who was a phenomenal athlete before he started LHPH - the principles and method work, no matter what your level.
As you can see, no matter where you enter into LHPH, you can repeat all 3 modules when you finish to take things to the next level. Besides, you'll have the knowledge, and that's worth more than 100 training programs or sessions with a personal trainer. Now, you decide what kind of body you want.
Q#5: What if my fitness goals have nothing to do with getting a flat stomach?
Getting a flat stomach is a goal of many people, however it is not the only benefit of Elite Online Monthly Coaching - among them gaining physical strength, endurance, flexibility, and overall health. Plus, you will learn everything you will ever need to know related to exercise.
Q#6: What if I'm already pretty lean?
That's great! However, Elite Online Monthly Coaching's benefits don't stop with losing weight. No matter how trim you are, the combination of routines are designed to activate all areas of your body - providing previously unexperienced levels of definition and muscle balance. A lean body without enough 'functional' muscle mass is often times prone to injury and should be considered unhealthy.
Q#7: What are the shipping costs going to be?
Nothing! The entire program will become immediately available to you via membership login and download after your purchase - no shipping fees, nothing to wait for in the mail, and no waiting for results!
Q#8: What if I'm concerned about my current health or age and my ability to perform the program?
Not a problem (but great you are thinking of your safety!) - one of the nice aspects of Elite Online Monthly Coaching is that it is designed for people of all ages and fitness levels. In fact, many of my past and current clients are in their 60s.
Meet Marty Millner, who's a long-term client of mine that's gone through all of my programs. When we met, at age 57, he went through LHPH -- below, you'll see how great of shape he's in and how happy he is a full 3 years later.
This stuff works, and the results stick around.
That said, as a Doctor of Physical Therapy, I always urge new clients to consult their physician prior to starting any new fitness program if they are suffering from some type of pre-existing condition or are concerned in any way.
But, if you're ready to get started, and you're willing to trust me as much as I am you, then let's get started. Please click 'add to cart' and we'll send your login info asap:

Click HERE To Save Today!
Q#9: Does the program work for both men and women?
Of course -- our client base is practically split 50/50. Whether you're a man or a woman, you can have absolute confidence that you will get noticeable results, fast!
Q#10: What if I don't get great results?
Then you pay nothing! With our 60 Day Money Back Guarantee, you have a full 60 days to evaluate the program (and the results), and if at any point you feel I've let you down, just let us know with a simple email and we'll ensure you receive a prompt and courteous refund.
You see, I can make a guarantee like this for one simple reason: this system, when followed, works. I want you to get in shape, I want to help you, and I want to take care of you. The burden to deliver is 100% on me–the only thing you need to do is let me prove it to you!
Simply put, right now, you have an incredible opportunity to lock in your fat loss future at a recurring discount, completely risk-free. Get in before it's too late:

Click HERE To Save Today!
So there you have it, my friend - all the pieces you need to once-and-for-all, get yourself into THE best shape of your life.
Make no mistake about it -- this won't be a simple walk in the park, or a 'quick fix'....
You will sweat...
...and you will burn....
...but it's never been a question about willingness to put forth the effort, has it?
We thrive off of that feeling -- challenging ourselves and then proving to ourselves that we can do it!
Beginning today, we're going at this together - go ahead and click 'add to cart' -- I'd like to get you started right away:

Click HERE To Save Today!